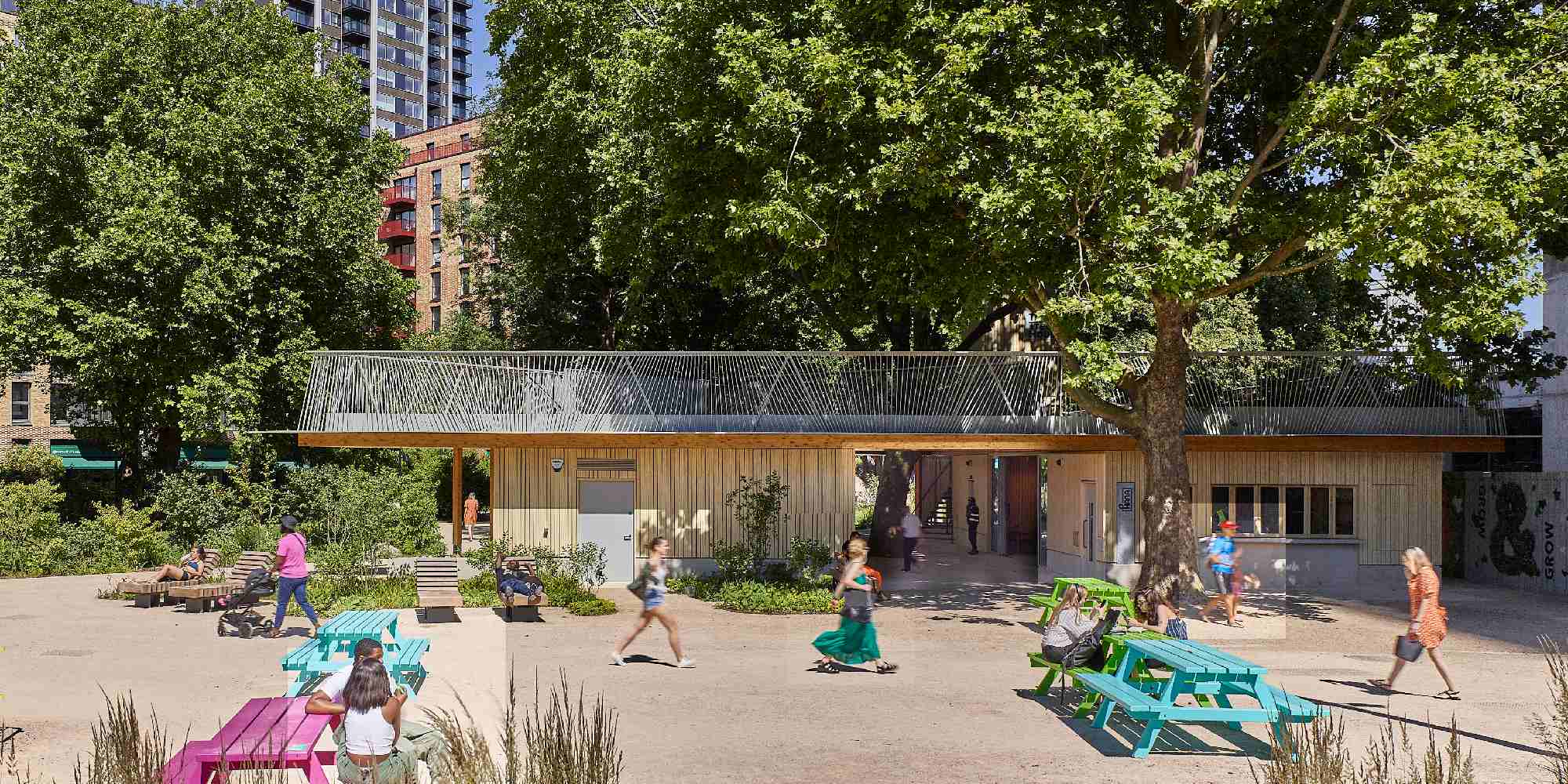 The Tree House
We'd like to introduce you to our brand-new community space, The Tree House at Elephant Park!
As its name suggests, you can climb high up into the treetops, and look out from its roof terrace across the park and surrounding area.
What can it be used for?
The Tree House at Elephant Park is a community space for everyone to enjoy. The space is for everyone, and we hope you enjoy spending time here in this special place.
Within the building is a room which can be booked for events. There is a brand-new café kiosk operated by local favourite; Hana Coffee, and there are accessible public toilets which will be open between 10am-6pm.
Head up to the first floor and you'll find a large public roof terrace which can be accessed by two staircases or a lift. The roof terrace gives visitors the chance to immerse themselves in the tree canopy, relax and take in the view across the park and Elephant Springs.
Everybody is welcome at The Tree House whether you're relaxing on your own, meeting friends or making new ones. Grab yourself a drink or a picnic from one of our retailers and enjoy the leafy surroundings.
Community Rates
Weekdays: £25ph + VAT
Weekends: £30ph + VAT
Weekday Full Day: £120 + VAT
Weekend Full Day: £150 + VAT
Corporate Rates
Weekdays: £50ph + VAT
Weekends: £60ph + VAT
Weekday Full Day: £240 + VAT
Weekend Full Day: £300 + VAT
Any enquiries to rent the roof terrace for an event will be dealt with on an individual basis. Max. 50 capacity for the internal space.
Designing The Tree House
The Tree House has been designed by Bell Phillips Architects and is inspired by the surrounding landscape of the park. It celebrates the existing trees in the park, through its main material being timber, and also by the way the building wraps around one of them.
At Elephant Park we take sustainability very seriously and it was important for The Tree House to reflect these values in its design and construction.
The building is made from a material called cross-laminated-timber. This is a renewable resource, and so a highly sustainable choice.
The building has been designed so that everyone is welcome to use and enjoy it, and therefore is fully accessible. There is a lift for accessing the roof terrace and there are fully accessible public toilet facilities.
Nature & wellbeing
Did you know that spending just 120 minutes a week connecting with nature will boost your physical and mental wellbeing? There's a growing amount of research that shows the natural world can have significantly reduce stress and promote healing. Just one of the reasons we've gone to great lengths to make Elephant Park such a green and leafy place.
You don't have to travel to the countryside or climb a mountain to get the benefits of the natural world. Nature is all around us, and now with The Tree House you can get even closer. Spend some quiet time up on the roof terrace and you'll be amazed what you might notice.
Our commitment to sustainability
At Elephant Park we aim to be London's greenest neighbourhood. We are a healthy and sustainable piece of the city, and a new green heart for London.
Lendlease are one of the leading property developers in the UK when it comes to setting ourselves ambitious targets to tackle climate change. Find out more about Lendlease's commitment to Mission Zero.