Elmer at the Elephant
In 2019, to celebrate Elmer the Elephant's 30th birthday, developer Lendlease joined forces with event company Wild in Art, publishers Andersen Press, and some very talented artists and local community groups to create Elmer at the Elephant - a special trail of community-designed sculptures that celebrate diversity and inclusivity.
For World Book Day 2022, David McKee's beloved children's character is back at Elephant Park as the London Elmer trail has been relaunched for all to enjoy. Explore the streets and green spaces in the area to find the 10 Elmer statues that have been designed in collaboration with the local community groups in Elephant & Castle.
Download the map below to explore the trail - and don't forget to tag us in any photos you take of Elmer at Elephant Park using #ElmerAtTheElephant!
Completed the Elmer trail?
Have you completed the Elmer at the Elephant trail and spotted all ten elephants dotted around Elephant Park? Congratulations!
Download and print your certificate below!
Elmer the Patchwork Elephant
Elmer remains one of the most iconic and widely read children's book series of all time, selling over 10 million copies worldwide since it was first published by Andersen Press in 1989. Written and illustrated by celebrated children's author and artist David McKee, the Elmer books have been translated into more than 60 languages and now new books, toys and clothing add to the world of Elmer the Patchwork Elephant.
David McKee was born in Devon and studied at Plymouth Art College. In the early part of his career, McKee regularly drew and sold humorous drawings to magazines and newspapers such as The Times Educational Supplement, Punch and the Reader's Digest. David McKee has written and illustrated over 50 picture books for Andersen Press and has penned a number of children's classics including King Rollo, Mr Benn, Not Now Bernard and Elmer the Patchwork Elephant. He was named 'Illustrator of the Year' at the Bookseller British Book Awards in 2020. David McKee loves to paint and now lives in the South of France but regularly visits London.
Wild in Art
Wild in Art is the leading producer of spectacular public art events that entertain, enrich, inform and leave a lasting legacy. It brings together businesses and creative sectors with schools and local communities through the creation of uniquely painted sculptures. You can read more about the work they do on the Wild in Art website.
Elmer artwork © David McKee, from 1989 – 2022.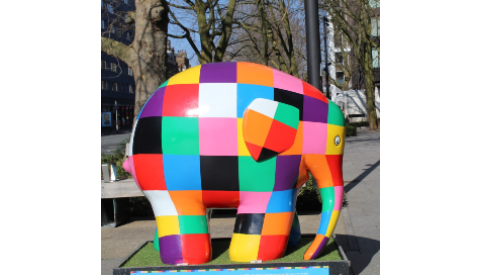 Patchwork Elmer
Elmer The Patchwork Elephant is an elephant with rainbow and white squares arranged as patchwork. He has a cheerful and optimistic personality, and he loves practical jokes. Elmer the Patchwork Elephant is created by David McKee and was painted by Michelle Turton.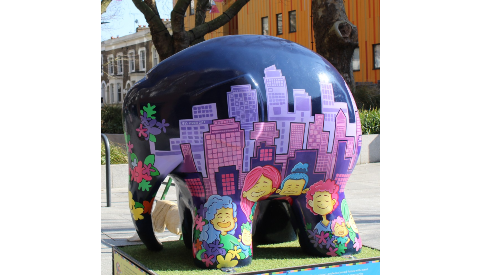 Espacio Mamá
We Are One was produced by the members of Espacio Mamá, a weekly mum and baby group held at St. Matthew's Church in Elephant & Castle and artist Jerrica Perrin. The group is part of the wider Parents and Communities Together (PACT) project set up by Citizens UK.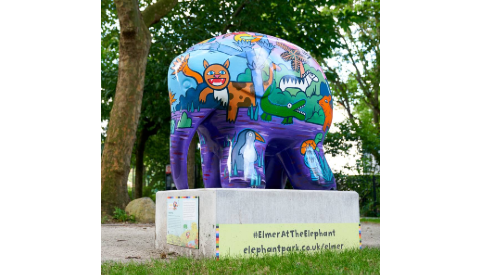 Victory Primary School
Jazzy Victor was produced by the children of Victory Primary School in collaboration with artist, RP Roberts. Victory School aim to create a welcome, safe, and caring environment where all relationships are based on kindness.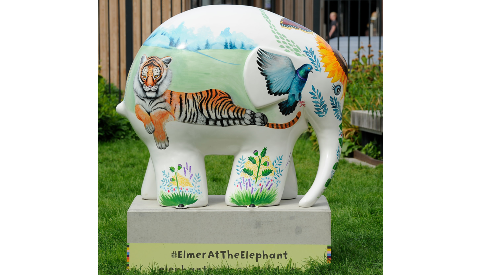 Southwark Pensioners Centre
Forget-Me-Not was designed by artist Jodie Silberman in partnership with Southwark Pensioners Centre (SPC). Since 1987 SPC have been offering a wide range of services to older people aged over 50 in the London Borough of Southwark.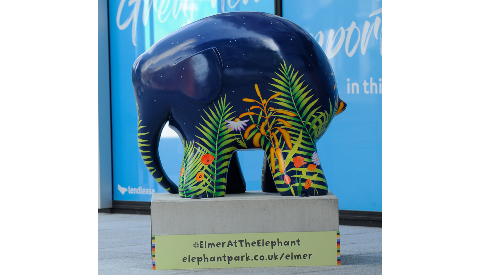 Draper Together
Forest Of Stars was designed by community group Draper Together and artist Andrea Tyrimos. Draper Together is a charity promoting community cohesion by providing opportunities to the residents of the Draper Estate and their neighbours in Elephant & Castle.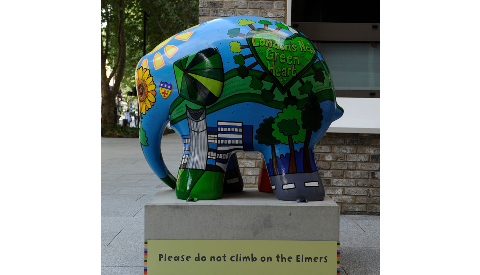 Notre Dame Girls' School
London's Heart was designed by the Year 8 students at Notre Dame RC Girls' School in collaboration with artist Jenny Leonard. The school is located close to Elephant Park on St. George's Road.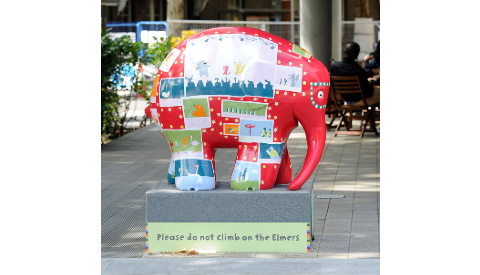 Southwark Playhouse
Showtime! was produced by two of Southwark Playhouse's groups: the Young Company and the People's Company – in collaboration with artist Robert Starling. Southwark Playhouse is all about telling stories and inspiring the next generation of storytellers and theatre makers.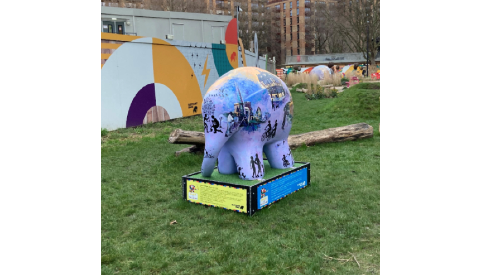 Young Artists with Autism Collective
Through Artists' Eyes was produced by Young Artists with Autism Collective, a group of parents and carers of four young men with autism, and in collaboration with artist Loïs Cordelia.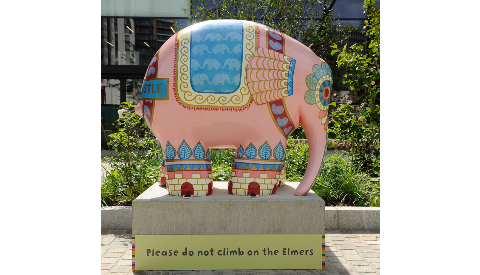 London College of Communication
Kindred Spirit was produced by international students from the 'Certificate in Higher Education: Preparation for Design Media and Screen' course at London College of Communication, UAL, in collaboration with artist, Donna Newman.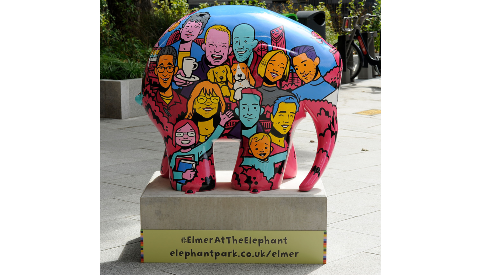 Elmer Says Hi!
Elmer Says Hi was designed by street artist Hammo alongside the people of Elephant and Castle. It portrays real people and places from the community and represents the Elephant Says Hi community campaign.