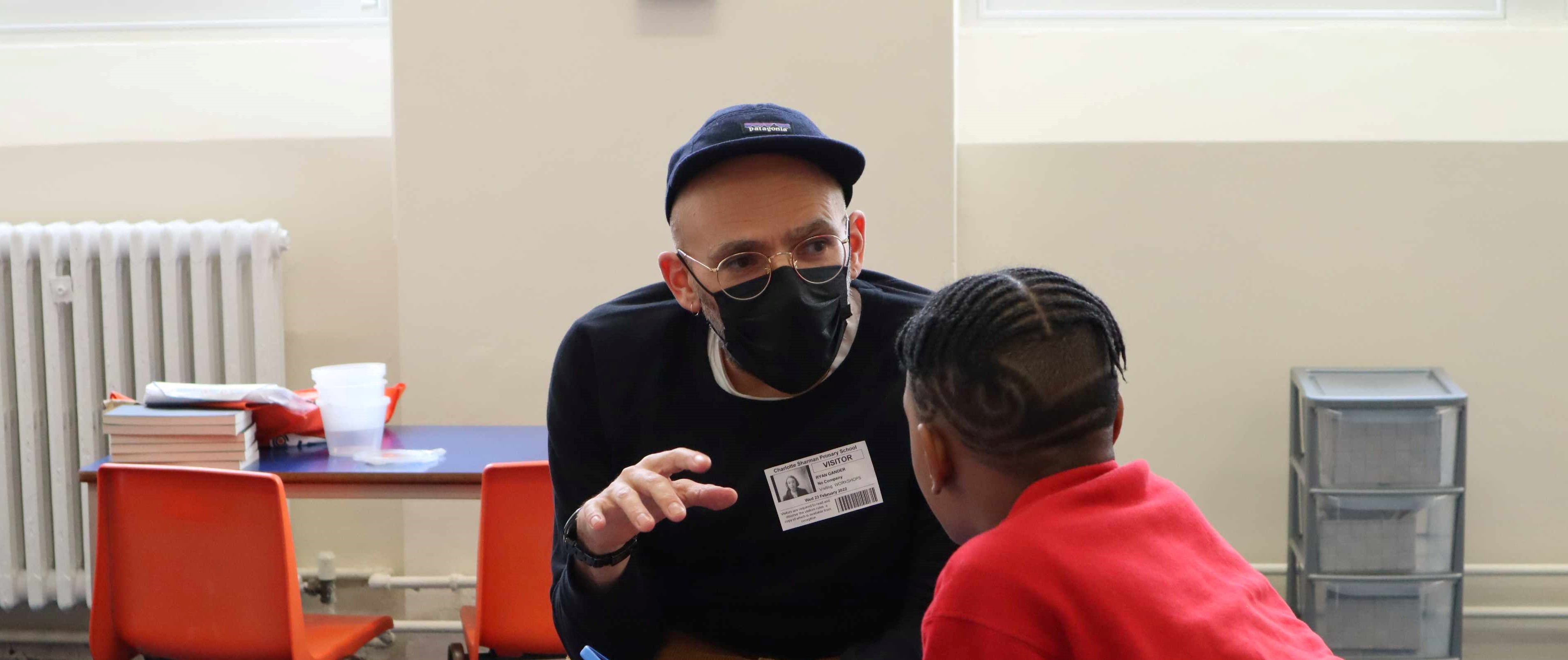 Ryan Gander Art Commission
An exciting new artwork by artist Ryan Gander will be unveiled at Elephant Park in summer 2023, and he wants the community to get involved!
Ryan Gander OBE RA was commissioned in 2021 to create a landmark public artwork for Elephant & Castle. He began by collaborating with the South London Gallery in Peckham and Year 4 pupils from three local primary schools to develop this new work. A series of workshops with the schools took place, during which they explored new histories, possibilities and place making on a personal, local and global level. The aim of the project is to generate positive stories for young people, and encourage them to reflect the diversity and energy of their own place and future.
Alongside these workshops and the final artwork, Gander has published The Future Sketchbook, a free resource available to all schools across Southwark and as a digital download across the country. Teachers and children are encouraged to get involved in this unique, creative project.
The Future Sketchbook
With 190 pages that encourage children to look up and draw what they see above them, and invent a new word that means 'happy place', the Sketchbook aims to promote creative thinking and inspire children to reflect on their surroundings, and view everything through the lens of imagination. Each chapter has been created to give children the chance to create a future they want to see.
If you are a school in Southwark and would like free physical copies of the Sketchbook for your Year 4 students, please email ele-ask@lendlease.com.
Download your free digital copy of The Future Sketchbook below, and get creating!
"The book aims to create positive stories for young people to live inside, allowing them to reflect the diversity and energy of place and the future. It's meant to highlight there is not a single correct solution but an abundance of possible perspectives of different people, all of which have equal value.
We live in a culture where logic and rhetoric run wild and command all, yet illogic, creative and abstract thinking are some of Britain's greatest exports."
- Ryan Gander
How to use The Future Sketchbook
The Future Sketchbook has been developed as an easy to follow workbook, through which children can experiment and express themselves. Whether you're a teacher sharing this with your students to complete in the classroom, or you're a parent or guardian looking for fun, creative activities outside school hours, there are no rules!
For top tips from South London Gallery's educational team and a selection of Southwark teachers on how to get the most out of The Future Sketchbook, download the guide below.
Get involved in local art
The project has been developed in partnership with the South London Gallery, the Contemporary Art Society and has been funded by Lendlease.
If you'd like to get involved in more local art projects, whether through school or at home, visit the South London Gallery website where you can browse upcoming workshops, engaging activities and resources for children of all ages to support creative learning.
Take a look at our upcoming events around Elephant & Castle for more fun family activities, or read our blog for more exciting updates about Elephant Park.